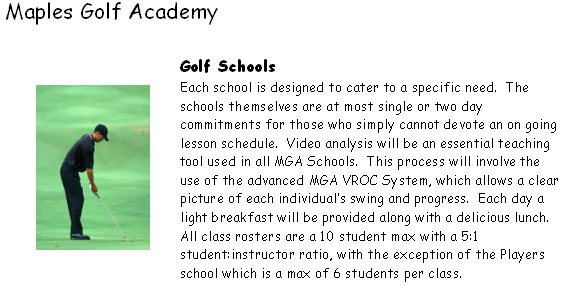 One Day First Swings
This is a simple and concise approach to all the basic fundamentals of the golf game. This school introduces a pure beginner to all the general principles of the golf game: from the grip, stance, posture, alignment, to the swing, pitching, chipping, and putting...
$195 plus tax.
One Day First Swings For Ladies
As far as content, and the introduction to the game of golf, this school is very similar to the First Swings golf school. However, this school is specifically for ladies only. This school provides a non-intimidating, comfortable, relaxed environment for women to learn to play golf. Although content may be similar to the regular First Swings school, the method of teaching is different. The instruction itself from the drills to assist the feeling of a golf swing to the mental mind set in playing each hole is catered for ladies...
$195 plus tax.
One Day Short Game School
One of the fastest ways to improve your golf game is to improve your short game. For most people, short game accounts for more than 50% of the total score. The one day short game school will go over the basics to pitching, chipping, putting, bunkers, and the mental approach to decisions and shot making...
$195 plus tax.
One Day Players School
The school is designed to bring all facets of skills together into actually playing the game. Learning how to take what you've practiced and to bring it on to the course. You will start off with a mental game session, you will learn how to coordinate and choose your swing thoughts, and learn to generate a reliable routine. Then take those thoughts and play 9 holes. Return to the clubhouse for lunch. After lunch, you will be given a feedback session and some time to work on a few skills before heading out for another 9 holes...
$195 plus tax.
Two Day Short Game School
The two day school is an extended version of the one day short game school. While spending time on the basic fundamentals of short game skills there is also an allotment for more time to expand on more areas of each aspect in short game. We will guide you through areas such as uneven lies, mental approaches, wedges, approach shots, specialty shots, and even more drills to help you master your skills while also having fun...
$395 plus tax.
Two Day Progressive Skills School
If you are certainly not a beginner and may have even been playing for some time, this may be the school for you. Re-learn and re-enforce your fundamentals. Get a clear understanding of common misconceptions. This is your opportunity to have all your lingering questions answered. It's time to take your game and your skills to the next level. Whether you want to get from shooting 100s to 90s or 90s
to 80s this school will help you get there by covering all facets of the golf game...
So come on out to Maples and try out the new MGA learning experience. Our goals are exactly the same as yours, to improve ourselves and to help YOU to a better game. See our schedule for the next MGA Golf School.
Email us for more details on schedule and availability!
Have your own School? Corporate Event?
If you have a group of individuals, friends, family, or co-workers, etc. we encourage you to form your own groups! If any of our school curriculums interest you, all that is needed is 3 or more people to open a course. Give us a call, we can set a date, and we can run a school privately for you and your group. In addition, we can also cater and customize the course to your groups needs. Just let us know.